Snow Shuts Down Jerusalem
Many Israelis woke up this morning to a snow-covered landscape. This week's remarkable winter storm has reached its peak, culminating in substantial snowfalls in large parts of northern Israel, Jerusalem and the inland hills. Snow has fallen in Judea and Samaria and has even reached as far south as Mitzpeh Ramon.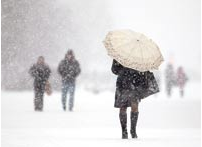 In Jerusalem some 5 centimeters of snow fell during the night and the areas around the capital were also snowbound. Snow was still falling heavily this morning and by 9.30 am 15 centimeters was measured in some parts of the city. Snow had begun falling yesterday afternoon in the higher neighborhoods of Jerusalem such as Gilo, French Hill and Mount Herzl.
The Jerusalem Municipality has opened an emergency room to deal with transportation problems resulting from the inclement weather. The Jerusalem Light Railway and buses throughout the city (on roads that are open) are free until 2 pm to encourage residents not to use their cars. All schools are closed in Jerusalem and the surrounding towns and villages as well as in the areas in the north hit by snow so that children will be able to enjoy an unexpected vacation and play in the snow.
Road 1 The Tel Aviv-Jerusalem Highway and Road 443 (from Modiin) were completely closed leading up to the city in the morning. Road 1 had been closed for long periods during the night due to heavy snowfalls and icy conditions.
"Over 1.20 meters of snow"
The snow which arrived in full force in Jerusalem during the night had already covered large parts of the Galilee and the Golan yesterday. 1.20 meters of snow was recorded at the lower cable-car station at the Mount Hermon ski resort, while the upper cable-car station was completely closed due to blizzard conditions this morning. It is still unclear whether the resort will be able to open over the weekend.
More than 10 centimeters of snow has been recorded in parts of the Galilee and Golan.
Tel Aviv, Haifa and the coastal plain is unaffected by the snowfall and despite continuing rain schools are open as usual today. VJ